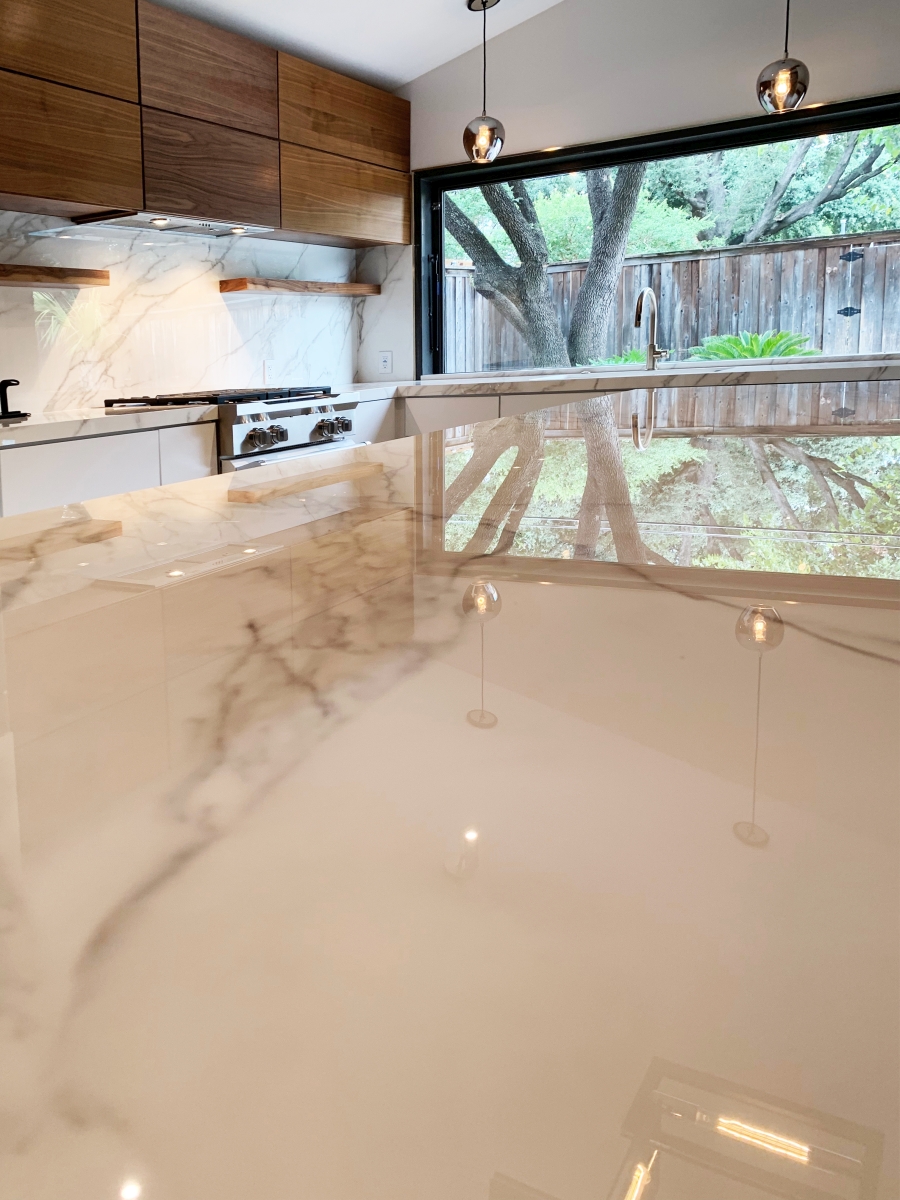 If you utilize the granite care and maintenance cleaning and procedures which follow for your kitchen countertops, you'll be able to avoid the large majority of potential problems without having ever needing to think about it.
Do: Completely clean surfaces simply using a sponge or gentle wash cloth. If possible apply a uniquely intended stone cleanser, yet warm water plus a basic liquid dish detergent will do for instant clean-ups. But, constant or excessive use of soap can cause build-up and can easily wear out your counter top luster.
On a daily basis: Hot water and a cloth or sponge is ample to clean up spillages and debris and keep your countertops neat and tidy all day long. In the evening, a brief srpitz and wipe of the most heavily used parts with a stone solution will sufficiently cleanse, sanitize as well as safeguard your counter surfaces.
Once a week: Use a stone cleaner across the the complete working surface.
Quarterly: Polishes, revitalizers and color boosters may be used (if wanted) occasionally for the ultimate in granite countertop maintenance.
Do: Re-apply sealer every year. Yearly re-sealing is a superb concept. It's really a surprisingly easy endeavor and will ensure that your kitchen countertops are very well shielded from discoloration.
Do: Soak up splatters instantly. Acidic things for instance wines, cups of coffee, fruit drinks, tomato gravy and also sodas can easily etch the actual polish or discolor the surface. Begin using coasters under glasses, wine bottles and cans.
Don't: Allow for unclean pots and pans to accumulate around the washing up bowl. Cooking oils also can leave behind a discoloration if not cleaned up. With the help of periodic proper sealing, this is unlikely, although not unfeasible.
Do: Make full useage of chopping boards when slicing veggies. Although granite is considered generally scratch resistant and will take tons of use with out any deterioration, it does comprise of some softer minerals which can be damaged or scraped. The odds are rather tiny, however it's actually possible. Regardless of whether it does take place, don't fret too much. Almost all chips and marks can be easily repaired, however it's much better to avoid them. Also take into consideration that chopping on rock may perhaps dull and damage your kitchen knives.
Do: Invest in trivets and hot pads beneath cooking pots, cookware and also dinnerware. It's true, you could potentially take a sizzling hot pot off of the range and place it right on granite with no problems. Granite is amazingly heat-resistant, nonetheless, you must think about other issues too. Dirt which unfortunately gets captured between the pot and the kitchen counter work surface might scratch the finish. What's more, in case you remove the burning hot dish from the countertop, the surface can be very hot and can even burn anyone who directly touches it.
Don't: Incorporate common washing products including bleach, glass cleaning solutions or degreasers. These products comprise acids, alkalis along with other substances that can etch or deteriorate the counter tops surface area or simply decay the granite sealer making the stone more susceptible to staining.
Don't: Use vinegar, ammonia, lemon or orange as cleaning solutions. As previously mentioned, these materials can certainly etch or breakdown the kitchen counter work surface and also degrade the granite sealer.
Don't: Use bathroom, bathtub & ceramic tile or grout cleansing agents. The powders in addition to the "gentle" applications have abrasives that would mark and wear out surface areas.
Don't: Sit down or stand on your counter tops. Granite counter tops are certainly hard, but aren't flexible, subsequently way too much extra load in one place may cause a split.
Don't: Place toiletry solutions and products upon your countertops surface. Hair products and solutions, fragrances, colognes, nail products and solutions, ointments, tanning lotions and potions may well mark or harm the finish or etch the polish leaving behind a ring.
In conclusion
Granite Countertop care is relatively easy to follow. By maintaining your tops on a regular basis, you will be able to maintain and enjoy their beautiful look for many years to come.
About the Author
jaimehorn511
Hi there and I am a graphic designer coming from Raleigh, North Carolina. I live with my 3 pet dogs and also my terrific wife Anne. I graduated in '04 with a bachelor's degree in Information Technology and also Web Design from the California Institute of Technology.
Article Source:
http://www.articletrader.com/home-and-family/granite-countertop-care-and-attention-dos-and-donts.html